More bowls today!
Bowls are good for catching souls, apparently. That's what they say when I successfully perform shiny on an eye in realism. No offense to those who believe in that sort of thing, I find that puzzling. Eyes aren't a window to the soul, they're shiny balls of jelly. No one says anything about soul when there is no shiny. Which is not to say that shiny is the only thing you need to make "soul".

Did I ever mention that I hate manga?
The direction we're looking with our eyes is a strong kind of body language. There isn't a set of rules for what looking in a particular direction means. It's all in the context of expression and whatever else is going on.

The amount of white showing also plays a part in recognizing the intensity of an emotion.
I hate it, but eyes suck focus in pictures, and therefor need to be shaded and shinied properly.
Shiny is basically drawing in two layers. The iris is a concave bowl. The cornea is convex and is mostly invisible, except for reflections of the space around it, and distortions of anything behind or beneath it.
The iris is a shallow bowl, with a little raised part in the middle around the pupil. like a chips and dip platter. There's a kind of weird drop off out of the white jelly part into the iris. Depending on the light and the specific eye shape, that can make for a darker outline.
Ignore the cornea (the clear jelly over the top), it's invisible. What's not invisible are the reflections it shows across its surface. Brighter things, lamps and windows and explosions are more likely to cover the image of the iris. Where there are shadows, from eyelashes or other things, the reflections won't show.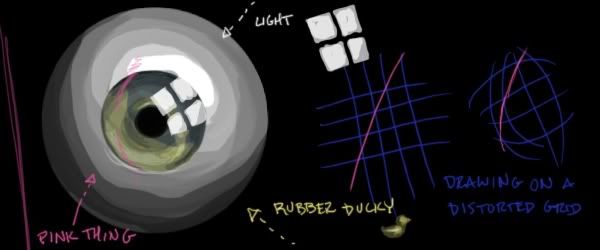 The iris may be visually displaced by the cornea. I don't think it's that big of a deal unless we're looking from the side.
The shiny happens with hair, sweat, even within the layers of skin. When drawing layers of objects with low opacity, remember that you're not actually drawing one layer over another, you're NOT drawing the light spots of each layer.
Unless you've got Photoshop and you can cheat like me.